The $100,000 GOOD Marketing Grant for Non-Profits
Let's partner together in the fight against human trafficking of minors.
I Want to Apply!
We're giving away $100,000 to one non-profit fighting against human trafficking.
Don't Let Your Mission Go Unheard.
Many nonprofit leaders are often so focused on their mission that they lack the resources or time to share their mission with others who would want to be a part. Human trafficking of children is one of the greatest problems our generation has ever faced, and your mission to combat it should never go unnoticed. It's time your voice was heard loud and clear. We want to partner with you.
I Want to Apply!
With 15 years in the industry, we've helped hundreds of organizations thrive and rise above the noise to truly make an impact. Our track record showcases success stories across various sectors, but our deepest commitment and purpose lie in amplifying the voices of those who fight against child trafficking. When you choose Good Agency, you're not just choosing an award-winning marketing team; you're aligning with a proven partner who understands your mission, aligns with it, and has the needed experience to broadcast it to the world.
I Want to Apply!
The $100,000 Service Value Grant: Amplify Your Cause
Unlock an unparalleled opportunity with our dedicated grant tailored toward nonprofits. This isn't just financial support; it's a comprehensive service valued at $100,000 to enhance your outreach. We are committed to empowering your voice, honing your message, and amplifying the impact of your fight against human trafficking of minors. Together, let's impact the world with your mission.
I Want to Apply!
Our agency consistently produces content that earns recognition and awards, reflecting our commitment to excellence and creativity.
We specialize in crafting clear and compelling StoryBrand messaging that effectively communicates your organization's mission and resonates with your target audience.
We tailor our strategic marketing approach to your unique needs, ensuring that every campaign is well-planned and executed to achieve your specific goals.
Why Are We Giving Away $100,000?
"While there's a lot of awareness around the issue, especially with celebrity endorsements and political gestures, real change seems to always be out of reach. I've witnessed these awareness campaigns over the decades. People are impacted, they're shocked by the reality of the issue, yet the problem persists. Emilee and I feel compelled to do more with the company God has entrusted to us. Beyond just funding, we aim to address the core challenges non-profit leaders face, like fundraising, rallying volunteers, building rehab facilities, and so on. They're so involved in their mission that they need genuine support in fundraising. Our goal is to bridge that gap, hoping that this $100,000 marketing grant will multiply into $100,000,000, allowing us to impact the world for good, save these children, and honor God."
Clay Vaughan
Founder and CEO of Good Agency
*All applications will be under review until December 31st.
*Decisions will be communicated on or before January 31st.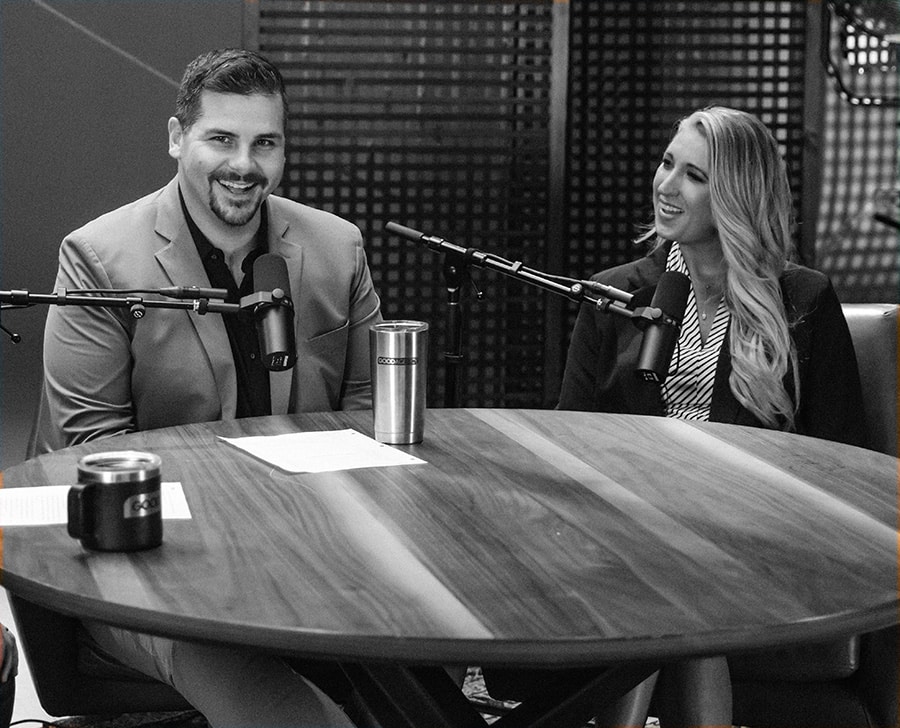 Should you have any questions regarding your application, or if there's more you'd like to share about your organization, you're always welcome to schedule a quick 15-minute discovery call with our team.
SCHEDULE A CALL
Eligibility

: This grant is available to non-profit organizations that demonstrate a consistent and active commitment to ending human trafficking.

Track Record

: Applicants must provide clear evidence of their past initiatives and the results they have achieved in their mission against human trafficking.

Organizational Structure

: Organizations should have a minimum of five full-time employees, with a dedicated point of contact responsible for overseeing the utilization and execution of the marketing strategies.

Growth Orientation

: Applicants should showcase their ambition for growth through past initiatives or strategies.

Service Need

: Applicants should present a concrete need for marketing services, making it clear how the grant would help them achieve their objectives.

Process Commitment

: Organizations must be willing to follow our process of clarifying their message using the StoryBrand framework and accept guidance on effective marketing strategies.

Agency Involvement

: Good Agency should be the organization's primary marketing agency of record. Furthermore, Good Agency expects to report directly to a decision-making authority within the applicant organization.

Service Value Grant

: This is a non-cash grant. Good Agency will provide services valued at up to $100,000 for marketing initiatives in 2024. The first line item required is a messaging strategy and marketing blueprint valued at $9,500, which will be debited against the $100k grant credit.

Application Deadline

: All grant applications must be submitted by December 31st, 2023. The grant recipient(s) will be selected and notified by January 31st, 2024.

Blueprint and Strategy

: By February 28th, 2023, a blueprint determining the services to be rendered should be in place, unless scheduling conflicts arise. This blueprint will guide the service delivery.

Master Service Agreement

: A master service agreement detailing the nature and specifics of each service provided must be signed and agreed upon between the grant recipient and Good Agency to access the service grant.

Utilization Timeframe

: The awarded service credit must be utilized within the 2024 calendar year. Any unused credits will not be carried over to 2025 and will expire.

Service Redemption

: The grant can only be redeemed for services provided directly by Good Agency. This grant is non-transferable and cannot be converted into cash. A service fee chart will be provided to the recipient which may cover services like StoryBrand messaging, strategy, public relations, SEO, web design, and more. Note: Advertising is optional, and if opted for, its budget should be borne by the recipient.

Post-Grant Commitment

: Post the grant period, there is no obligation for the recipient organization to engage Good Agency for further services.

Publicity Rights

: By accepting the grant, the recipient agrees to allow Good Agency to use their organization's name, logo, and grant-related success stories for promotional purposes unless otherwise specified in writing.

Termination

: Good Agency reserves the right to terminate the grant and cease any ongoing services if the recipient fails to adhere to the terms and conditions or uses the grant for purposes other than what was agreed upon.

Liability

: Good Agency is not liable for any losses, damages, or negative outcomes that might arise from the marketing campaigns or strategies implemented using the grant.

Review and Selection Process

: Applications will undergo a thorough review process. Good Agency reserves the right to request additional information from applicants if necessary. All decisions made by Good Agency regarding the grant recipients are final.

Amendments

: Good Agency retains the right to modify these terms and conditions at any time. Any changes will be communicated to all applicants in a timely manner.

Dispute Resolution

: Any disputes arising out of or related to the grant or these terms and conditions will be resolved through mediation or arbitration, as decided by Good Agency.

Conflict of Interest

: Applicants must disclose any potential conflicts of interest, including any prior business or personal relationships with members or staff of Good Agency.

No Guarantee

: Submission of an application does not guarantee receipt of the grant. Good Agency reserves the right to award fewer grants than anticipated or none at all, based on the quality and quantity of applications received.