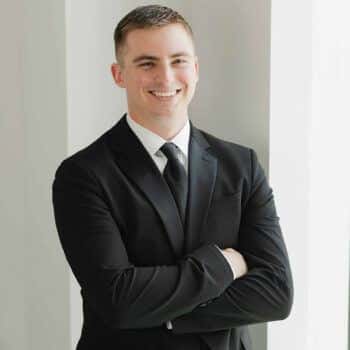 Hard work and strong integrity are the keys to unlocking an incredible career. It doesn't matter where you start – what matters is your drive to succeed. If you have dedication and determination, you can make it to the top. 
Tyler Matcek's story is one of success, drive, and determination. In 2018, Tyler began his role at Reverent Wedding Films as operations manager under James Hall. Tyler owned every aspect of not only his role but the role he wanted to grow into. Willing to step outside of his comfort zone and take charge of new projects, he was able to prove that he was there for the long haul. Today, Tyler is the President of Reverent Wedding Films, a multi-million dollar, multi-state business.
So, How Did Tyler Get to Where He is Today?
Join Clay Vaughan (CEO of Reverent Wedding Films) and Tyler Matcek as they discuss the steps it takes to overcome every obstacle you can imagine to get from joining an organization at the very bottom to working all the way up to senior leadership.
Good Business with Clay Vaughan
We interview business leaders about the hardest things they've faced and what they did to overcome them. This is a podcast that inspires business leaders to continue their pursuit of success while still maintaining their values. If you want to be more successful and gain valuable insight from seasoned business leaders, then you're in the right place and this podcast was designed for you! Your host is Clay Vaughan, who is best known as the CEO of Good Agency, a full-service agency that helps business leaders market their business and share their stories. He is sitting down with leaders from every industry to hear their process, the lessons they've learned, and how they've been able to achieve the success every leader hopes for.