Building a Website That Converts Doesn't Have To Be Hard
Every business leader wants a website with a clear and consistent message that engages prospective customers and brings qualified leads to their business. The problem is building a highly-converting website requires a highly-trained copywriting team (which is why nearly all websites have a low conversion rate). With Good Agency as your guide, you can feel confident that your website will be designed by expert copywriters who know how to attract your ideal customers and compel them to do business with you.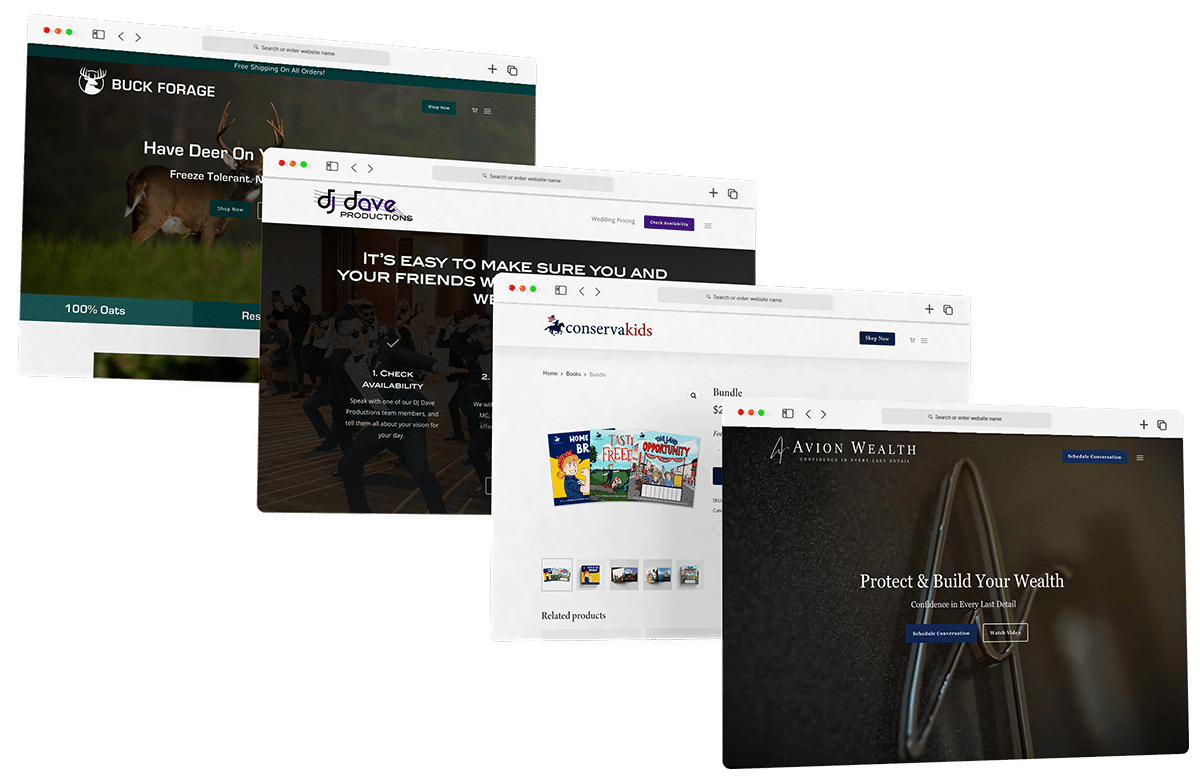 Do you want your website to be more than just 'average'?
For companies that need a professional-grade website. We will design, build, and host your company's high-speed, fully branded & customized WordPress website, that will work on all common browsers, be optimized for a seamless mobile experience, and include such features as:
Digital artwork
Copy, images and other relevant media
Interactive functionality like forms and emails
Integration with social media accounts
Integration with email list building services
Global search feature
Navigation with drop-down menu capabilities
You'll be able to showcase your brand in a way that prospective customers will know clearly who you are and what you represent.
Our adroit developers and designers will build you a site that showcases your company's unique image. Select between our 1.0 Website Package, 2.0 Website Marketing Package, and 3.0 Website Marketing Package, for the website that best meets your needs.
A few examples from our portfolio:
A website is one of the most important marketing tools for any business.
It is a 24/7 representation of your company, and potential customers will use it to learn about your products or services.
That's why it's important to have a website that is well-designed and effective in communicating your message. At Good Agency, we create high- converting StoryBrand websites.
We take into account your company's goals and branding, and design a website that will help you achieve those goals. Our websites are not off-the-shelf templates, they are custom designed, unique, and effective.
Whether you're starting from scratch or looking to revamp your current site, we can help you create a website that will grow your business.
Here's What Our Clients Are Saying About Their Websites!
"Good Agency did a great job working with me to build the website for my law firm. It was exactly what I needed and the work was performed quickly and efficiently. Good Agency has a great system in place to help you quickly and easily understand what they need from you so that you can work together to build the website that you want."

Brent Stanfield
"Working with Clay and his team has been one of my favorite experiences at work that I can remember. They helped us clarify our messaging and rebuild our website. I have to say, they are incredible and do great work."
It's Time To Change The Way You Market